How do we use "People Also Ask" to inspire the opportunities and strategies for global lead generation marketing via SEO concept?
The most common question under COVID-19 is, without trade shows and local visiting, what's the available and useful strategy to sell the products globally? Actually, you can use marketing data insight to inspire your global lead marketing strategies.
When people search keywords with their interesting topics or products on Google Search Engine, you can find there's a column named "People Also Ask". It shows the related questions that the "Google Engine user" usually asks besides the keyword that they just type in the search bar.
We can use the data to do buyer research, what kind of benefits that they need, pain points, domain knowledge that can catch their eyes. It's quite simple to do, you even don't need to visit anyone in your target country.
The insights of B2B marketing you can get from "People Also Ask"
Let me have one example for you, I search the keywords: "lead generation marketing strategies". And I'll show you the "People Also Ask" on the search result.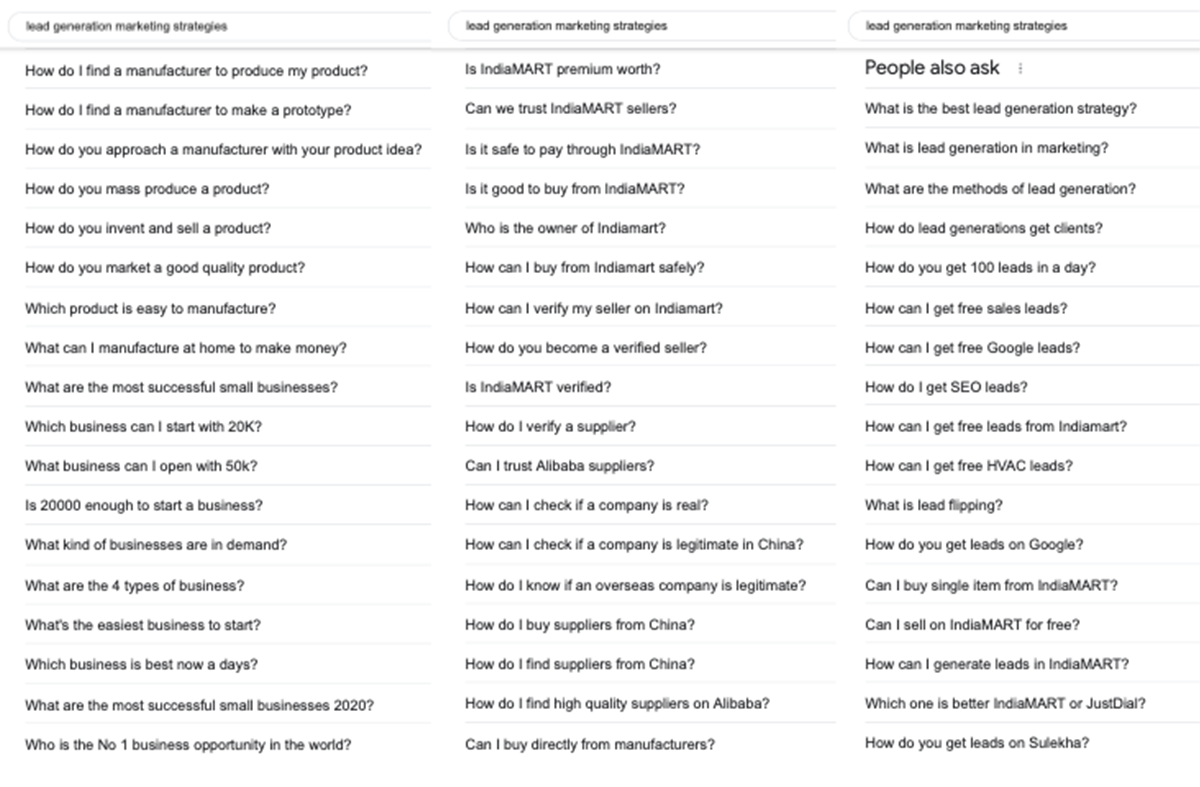 Then I sort the questions into 6 types:
Lead generation marketing strategies: It means how to get leads via digital marketing.
Free leads: It means find leads for their business.
JustDial/IndiaMART: It means finding clients on B2B trading platforms.
Varify Sellers: It means finding safe manufactures for product suppling.
Mass produce: It means finding manufactures that provide enough quantity of products.
Start Business:It means the searcher wants to find a good way or strategy to start a business or earn money.
By following the context of the questions above, we can find the searcher has transferred from "B2B service/product provider" to "startup". By translating the questions into marketing language, you can understand the benefits that they need or pain points of therm.
Applications on lead marketing strategy
For B2B service/product providers, you can emphasize the difference between online inquiry and find providers on trading platforms, also provide the detailed cooperation process, product application cases, and testimony from famous clients to make sure the trust from the strange potential client.
Also, you can use the marketing channels such as SEO, digital ADs, B2B social marketing, and overseas media publishing strategies.
For startups or small businesses, if you provide the corresponding product or services for them, you can focus on telling them why you are their best choice for their success, how much fund should they prepare, how you help them to achieve success, how much revenue they will earn when the business sucess.
Also, you can use the marketing channels such as SEO, digital ADs, Youtube video marketing, and KOL…etc.
Via the SEO marketing data insight, we help you to plan your overseas marketing strategies, you don't need to cost 14-30 days for trade show attendance and won't need to sit and wait for the reply from the unspecific lead list!
Start boosting your business to worldwide
You have high potential product or techniques but don't know how to extend your business abroad? Let me bring you more website visitors and leads, help you extend your business from local to global.
Contact me: [email protected]